W

hen I first started blogging it took me a while to really find any blogs I enjoyed reading. Then one day I stumbled across Ladybird Likes, a beautiful blog filled with photography, posts about daily life, adventures, thrifting, inspiring things like lists and crafts amongst many other things. I love blogs that don't just stick to one thing. I read this blog all the way from the beginning; there were simply so many interesting posts to read. It's easy to see that Zoe, the lady being Ladybird Likes is a woman of many talents. I really enjoyed reading about her creative journey, and seeing her dream of opening a shop come to life. Zoe's shop also called Ladybird Likes is filled with delicate handmade jewellery and paper things, inspired by the British Countryside and things from the past; there are pretty things for everyone from brooches to collar clips. Below Zoe talks about Ladybird Likes.

After reading your blog Ladybird Likes for a while, lots of things spring into my mind from photographer, blogger to jewellery maker. As a whole how would you describe Ladybird Likes?
I think the only was I can describe Ladybird Likes is as an adventure. It started off just as a way of keeping a personal diary of the things I've been doing/making/inspired by, but it has grown into so much more. And I'm still working on even more new things for Ladybird Likes in 2013. I want to teach classes on starting and running your own small business, I'd like to do some event and party planning, plus I have more photoshoots planned, as well as new jewellery collections and some other handmade things to add to the shop. I'm the typical 'jack of all trades, master of none' but I don't think I could be any other way!
Your blog is filled with many interesting posts about car boot/charity shop finds, so far what has been your most favourite find and what is one tip you would give to someone going thrifting for the first time?
I'm so sad that I haven't really been able to go bargain hunting as much since opening my online shops - trawling charity shops and car boot sales is probably my favourite ever past-time! I think my favourite find has to be my kid's aqua coloured typewriter - I picked it up in a charity shop, and I use it on my stall to display my typewriter key necklaces. I've had people offering to buy it from me for a lot of money, but I will never sell it! Another favourite find is my giant crochet blanket which cost me a teeny tiny £2! t is always on my bed, and I love thinking about someone taking the time to make such a beautiful thing. In terms of tips for first-time thrifters, I think the two best pieces of advice I can offer are firstly, be prepared. Wear layers in case it goes from cold to hot (which it often does in the early morning), take water and snacks, make sure you have plenty of change and so on. And secondly, rummage. If you spot a stall that looks promising, be sure to have a proper rummage. I can't tell you how many amazing things I have found at the bottom of boxes of crap, or tucked under a pile of clothes
.
I love the many lists you write, what does writing mean to you?

Writing means everything to me. My degree is in Creative Writing, but I find that in blogging it's easy to get carried away writing big, wordy, ranting posts on subjects that are on my mind. By writing them as part of my lists series of posts, it makes them easier to read, and it's also easier for me to break my thoughts down. One of my goals for 2013 is to write more on my blog - when I get busy I tend to just upload some photos along with a sentence or two. But I do miss sitting down and writing properly.
Today there are so many pros + cons about going to University, do you feel that University was important to help you get where you are now?
For me, university if a very difficult subject. I don't test well at all, which led to me dropping out of my first university in Northampton, where I went to study Psychology and Criminal Justice Studies. While I think that going to university definitely helped to shape me as a person, and gave me confidence in my writing and in my photography, it's hard to say whether or not I would have ended up on the same path if I'd simply applied for creative internships, and worked on developing my skills at home. I think that for creative professions, a degree or equivalent qualification is not really necessary, BUT university is so, so much more than a piece of paper at the end. The friends you make, the things you learn about yourself, the way you develop and hone your creativity - these are all things that you may not necessarily get from following other paths. Ultimately, I think it depends on the individual - but I have never regretted my decision to go to university :)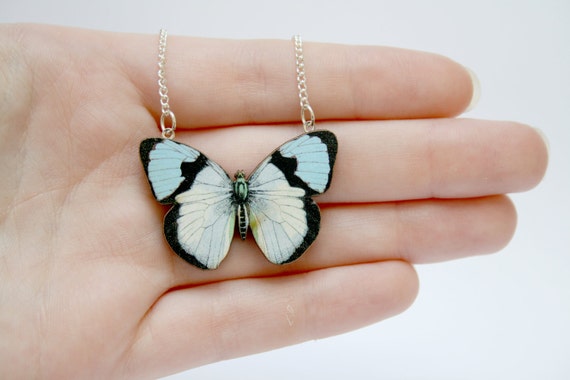 Miniature Wooden Butterfly Necklace
What sparked the idea of beginning to design/make jewellery pieces?
For as long as I can remember I've made bits and pieces of jewellery for myself, and sometimes for friends. I've always loved jewellery, and so it all happened very naturally.
Crafting is so diverse, was jewellery making something you always wanted to do?
Crafting is almost too diverse at time, and when I started out I wanted to make EVERYTHING! I had ideas for stationery, home decor items, candles, soaps, prints, plush toys, and jewellery. But I think once I started making I realised that the thing I liked making the most out of all these things, and the thing I had the most ideas for, was jewellery, so I made the decision to focus more on this. At craft fairs I also sell some of my other items, but my main focus is on jewellery. I love that I can make limited edition collections, and follow trends, and that people can instantly wear my pieces. Jewellery has always been a passion of mine - since I was 18 I've actively collected vintage and modern jewellery, and I guess it was only really natural that I would end up making jewellery!
Starting up a creative business can be difficult; did you find that there were many obstacles to overcome?
My biggest obstacle was always my own fears and insecurities - I kept making excuses as to why I should put off opening my shop, but really it was just my own fear of not being good enough, and of no-one wanting to buy my things! The practical obstacles are easy enough to overcome (where to use as your workspace/how to fit in making around working and so on) but you have to actually WANT to overcome them, otherwise you will end up putting it off!
When I look at Ladybird Likes jewellery pieces, I love the old-fashioned pin up girls, but your designs personally (and strangely) remind me of Tim Burton films. When it comes to jewellery making do you have something/one that inspires you or the way you work?
Ahhhh that's such a huge compliment - I am a massive Tim Burton fan! Although his work hasn't directly inspired me, I think it's only reasonable to think that if you admire someone's work enough their influence will creep in whether you are aware of it or not! When it comes to being inspired, I tend to absorb ideas from everything around me. I spend a lot of time deliberately surrounding myself with inspirational images, colours, and words, and I make lots of boards of ideas on pinterest. I also have a magazine obsession, which is where I get a lot of ideas from - I rip pages out and stick them up around my studio. I'm also massively inspired by old things - the inspiration for my vintage fashion lady brooches came when I bought a huge stack of old sewing patterns at a car boot sale - I just fell in love with the illustrations on the front.
Craft fairs are becoming really popular in the UK which ones have you had your best experience at as a seller/buyer? Is there a fair you would love to be a part of?
My best craft fair experience, as both a buyer and a seller, has to be the Renegade Craft Fairs. I first went to Renegade when I was in New York with my sister. We visited their Brooklyn fair and it totally blew my mind, and changed my view on craft and selling handmade. This year I was lucky enough to be accepted as a seller at the London Renegade, and it was the best craft fair I've done since starting Ladybird Likes - both in terms of profit and in terms of meeting people, networking, talking to customers and so on.
What is the best advice you have ever been given? /What advice can you offer to those wanting to work in a creative field/start their own business

?
My favourite bit of advice comes from a print by Anthony Burrill - it simply says 'Work Hard and Be Nice to People.' I think if you can do those two things (almost) all the time, well it's hard to go wrong. In terms of starting your own business, there are of course many things to think about. But I think the best advice I can offer is to stay true to what you want to do. It is always so tempting to follow trends, copy what other people are doing, play it safe, but be proud to be doing something different as it's what sets you apart from the rest of the crowd.
Thank you so much Zoe, 2013 sounds like its going to be a wonderful and amazing year for Ladybird Like so

i
f you would like to find out more about Zoe/Ladybird Likes follow the links below

!
Ladybird Likes on Etsy.
Facebook.
Ladybird Likes the blog.