I

love tote bags, they are the perfect size for my everyday essentials, so when I first spotted these cute tote bags on this blog I was a little smitten.

Beautifully h

andmade by Hannah Stevens with her own hand drawn illustrated designs, her tote bags stand out with amazing use of colours. Inspired by everything British from wild flowers to vintage crockery, these bags make for a perfect gift and can even be personalised

for that special touch. I got in touch with Hannah to ask her about her lovely tote bags and how it all began.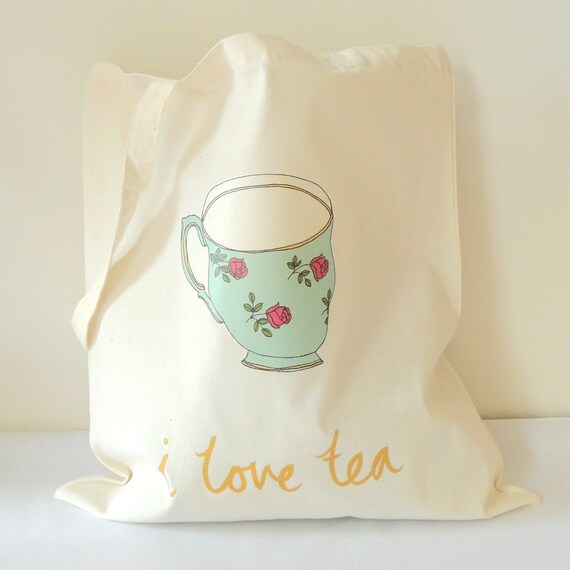 'I love tea'
How did you get into what you do creatively? /Where did the idea come from to start making handmade tote bags?
I think I've always been quite creative, when leaving school I just couldn't see myself doing anything other following a creative career. At university I studied Decorative Arts, which is where I really started to believe that I could make a career out of what I was designing and making.
Initially I started screen printing and creating a collection of textile home wares and accessories, but I found that I had lots of other ideas and drawings which I wanted to use in my designs. Heat transfer printing is a quick way of getting my designs onto products and it also gives me more colour and style options than screen printing would.

I love that your products are inspired by British Culture/Wildlife, how did this come about?
I loved the idea of making products that are really British, focussing on the things I enjoy about Britain such as having afternoon tea, bird watching and collecting vintage home wares and fabrics.
Was this the path you always wanted to go down with your designs?

Not originally, but I have noticed that I tend to change my ideas about designs and products quite frequently. Whilst at uni, I worked a lot with ceramics but then changed my mind at the last minute to focus on screen printing. When I started my business I wanted to create some more affordable products. Tote bags are very popular and functional and they seemed to take off.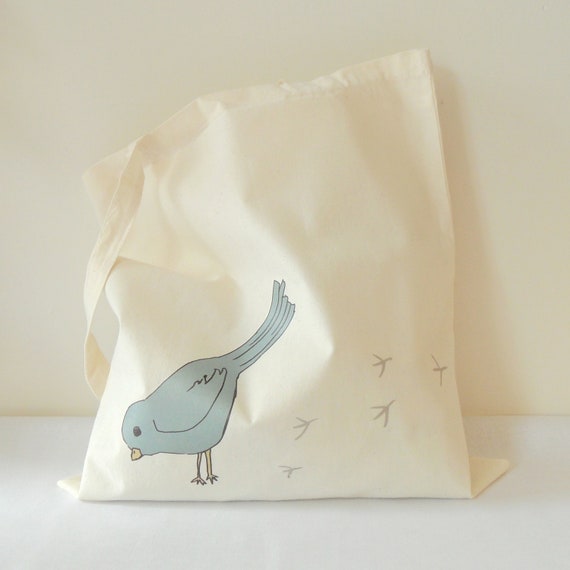 Starting a creative business can be a little scary at times; did you find that there were many obstacles to overcome?
Funding was the main obstacle for me, even though we were taught a lot about setting up and running small businesses at university, it still didn't prepare me for how much I would need to spend!

I've seen so many pros and cons about going to University, do you feel that going to University was important to help you get where you are now?
Yes! I really enjoyed university, its a fantastic experience and really helped me build my confidence with my drawing, designing and making skills. The tutors were supportive and offered advice on how to develop my designs and products. It also gave me the opportunity to try out a lot of different areas of craft and design, from ceramics, metalwork and woodwork to textiles, surface print and glass.
Like many people working in a creative industry, do you ever get creative blocks?
How do you deal with these?

Of course! I find that some days I just don't feel creative at all, so I just take some time out, do something different and then the next day I normally feel much better. I like to jot ideas and doodles down in my sketchbook so I can look back on them at another time. This really helps me when I'm trying to come up with new designs.
What is your biggest achievement to date and where do you hope your business will take you in the future?

I think it would have to be setting up my business, I hope that it will grow and grow. My dream is to be able to open my own brick and mortar shop somewhere in the South West, where I can sell and promote British designers and makers and perhaps have a little studio upstairs.
Thank you Hannah. If you would like to buy one of these lovely bags you can visit her lovely etsy store here or view a list of stockists here. You can also visit Hannah on facebook.


Click here to read other interviews with beautiful

/inspiring people.