Knickerbocker Glories is a company as sweet as it name, with candy colours, polka dots and designs beautifully inspired by vintage styles and nautical themes, it will most definitely have you swooning and awwing at adorable products like plush animals and cushions. Being kind to the environment Knickerbocker Glories products are made from recycled products like old shirts to buttons. I first s

po

tted Knickerbocker Glories on Ladybird Likes facebook page when she was talking about a plush cat she received, for me it was plush love at first sight.

..
I only recently discovered Knickerbocker Glories, how would you describe Knickerbocker Glories?
Knickerbocker Glories is traditional crafty skills but with a modern whitty attitude; vintage style fripperies that just make your life a little bit better.

How did you get into what you do creatively?
My Mum and Grandma taught me to be crafty from an early age, teaching me dress making as well as needlework skills and this lead to my training and career in costume. I love old textiles and haberdashery and have collected yummy finds for years. I am passionate about traditional skills been passed through the generations but want them to be whitty and have attitude which is why I always clash colours and patterns.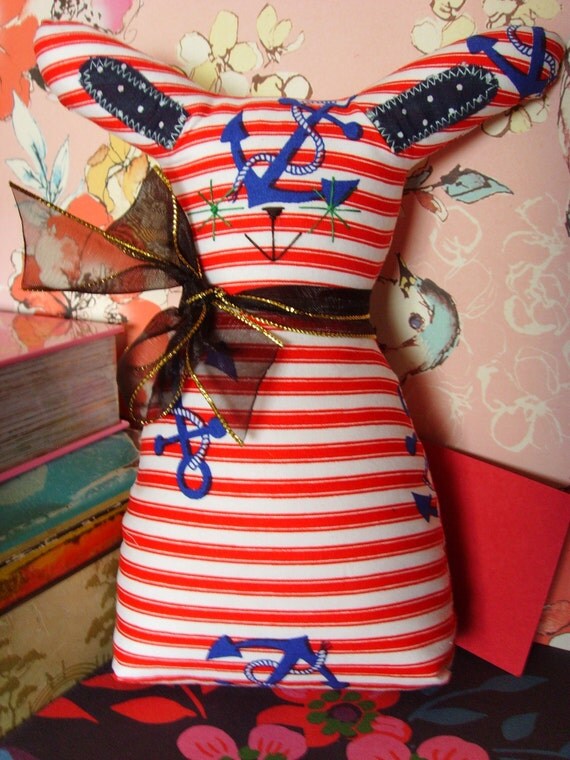 Dennis the Rabbit.

You make many beautiful things from plush animals, pillows to embroidery hoops, all inspired from vintage styles, the seaside and ice cream colours. Was this path you always wanted to go down with your designs?
Over the last year my focus has shifted slightly. When I first started I was heavily influenced by traditional dock side tattoos, using the swallow, heart and anchor as the central theme mixed up amongst the florals and polka dots. I still love this concept but have been lead away from it a little as I discovered new vintage techniques and textiles. However, I think my main aim remains the same which is to make your mouth water with vintage goodies that are whitty and colourful.
Is there anyone who has inspired you in your life, have they had much impact on your creative designs?
There isn't one specific person that has influenced my designs but the textile and wall paper designs of the early 20th century have always excited and inspired me.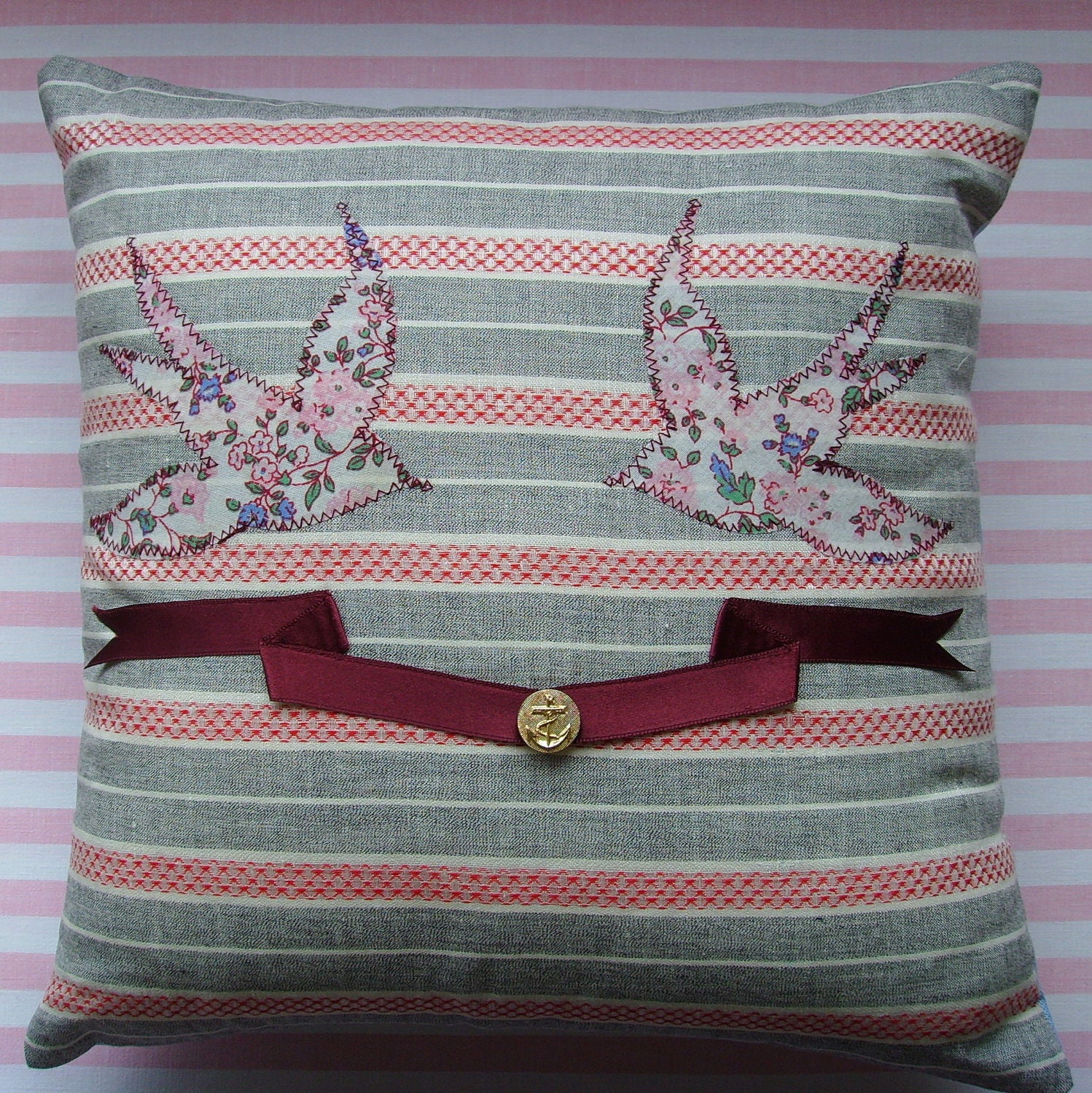 Striped cushion with Swallows.

Starting up a creative business is a wonderful adventure; in your experience were there many pros and cons to starting up your own business?
I love having my own business, it has allowed me to channel all my creative energy, improved my confidence and opened up a wonderful social life within the crafty community. I am proud and very passionate about Knickerbocker Glories and have enjoyed sharing my fripperies with the public. The flip side is that it takes a lot of hard work and commitment to stay on top of all your stock levels as well as the admin and the networking involved; this can sometimes take it's toll on your private/social life. The financial gains may not be to Lord Sugars standard but the satisfaction is worth every pricked finger and forsaken night out.

Today there are many craft fairs in the UK, as a buyer or seller what has been your best craft fair to date and why?
The weather and time of year effects how well a craft fair can go. I had a wonderful day at The Railway in Streatham Common, it was a beautiful day in wonderful gastro pub with a farmers market in the courtyard on the same day. The customers were all friendly and I met a group of fantastic young ladies who all fell in love with my cheeky basket of cats.
Can you share with us a little about your creative process, and so you have any advice for people with creative dreams?
My creative process is always driven by what new fabrics and button lovelies I have found. I will often start a day of stitching by getting out all my fabrics and seeing what is making my mouth water. My only advice to others with a creative dream is to stick to what you love and just put yourself out there. The best way to learn and develop your brand is through feedback and the encouragement you'll get from all the like minded people that you'll meet. Set yourself up with an Facebook page and an Etsy account and start making new friends and the rest will fall into place.

Thank you Emma, if you would like to find out more about Knickerbocker Glories you can visit Emma on her official Knickerbocker Glories website, facebook and

to buy any of these lovely items on Etsy.