I am a big fan of recycling; it really gets under my skin when someone can't so something as simple as separating recyclable rubbish. I guess it makes me feel slightly better that I might be helping the planet in a way. I always try my best when I'm making something to recycle old scraps of fabric/clothes etc. or to give unwanted clothes to charity if I can't make another use of it.

On Etsy I discovered a shop called Altered Perception, a shop that turns 'Trash to Treasure' a shop designed to up cycle unwanted goods including turning seashells or corks into earrings. They have also created an array of woodland creatures from owls, bear to rabbits, they are the cutest ornaments I ever did see and they are all made out of cardboard. James and Katie are the people behind Altered Perceptions to read more about their story click here.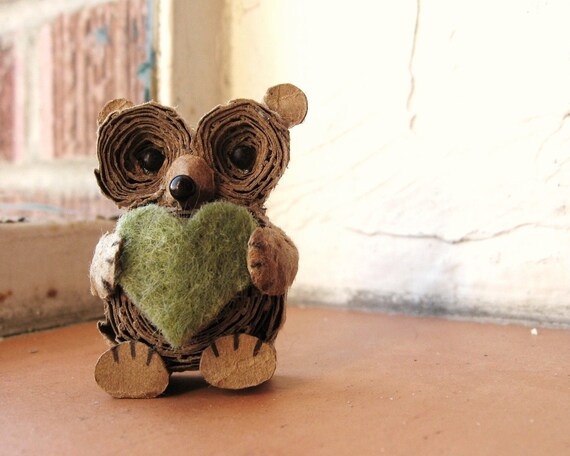 What sparked the idea for 'Altered Perceptions'?
When Katie was in college, the art department set up seasonal craft fairs for students and instructors. Everyone was invited to participate for a nominal fee, and, since we had just finished crafting our wedding we were feeling pretty adventurous. We made Christmas ornaments and jewelry, all from upcycled goods. After the craft fair, we needed another outlet for our "leftovers" and knew about Etsy, so decided to look into the process for setting up our own shop. Years later, we're still crafting and loving every minute of it!

How important is caring for the environment to you? Do you have any environmental tips for people out there?
We care a lot about the environment and strive to decrease our carbon footprint in any way possible. That said, we do as much as possible to reduce waste and upcycle items whenever we're able. The first thing we like to recommend to others who are looking for ways to be green is to recycle and compost as much as possible. If it's destined for the landfill because it can't be reused, try to find a way to upcycle it before throwing it away. If you can't upcycle it, try to give it away to others who may find a new home for it.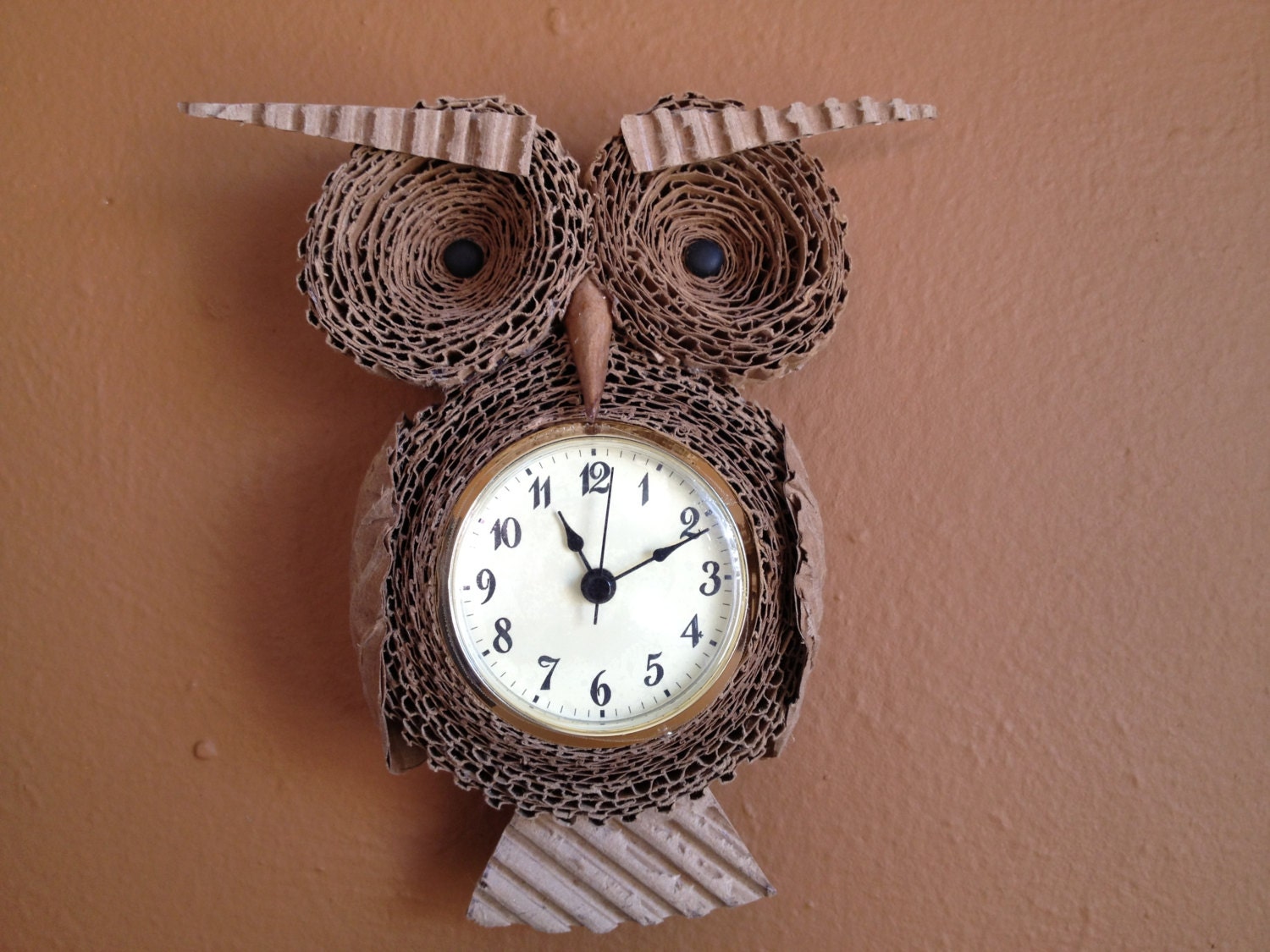 How did the idea of turning cardboard into animals come about?
As mentioned in the first question (when did we start?), the first crafting we did was for a craft fair at Katie's college. We saw a deer that was constructed of rolled cardboard and wanted an owl to match our rustic holiday tree. They turned out so cute, that we've since expanded to beavers, mice, squirrels and bears!

Other than cardboard what other items/objects have you given new life to/ Do you have a favourite item that you've turned into something new?
Katie LOVES taking vintage jewelry and upcycling it into new jewelry or art. We are also fans of saving corks, bottle caps, and art from cases of beer and transforming it into home decor pieces. The "favorite" would be our plans for a future pub table topped with beer bottle caps.

Describe your creations in three words: Upcycled, Altered, Cardboard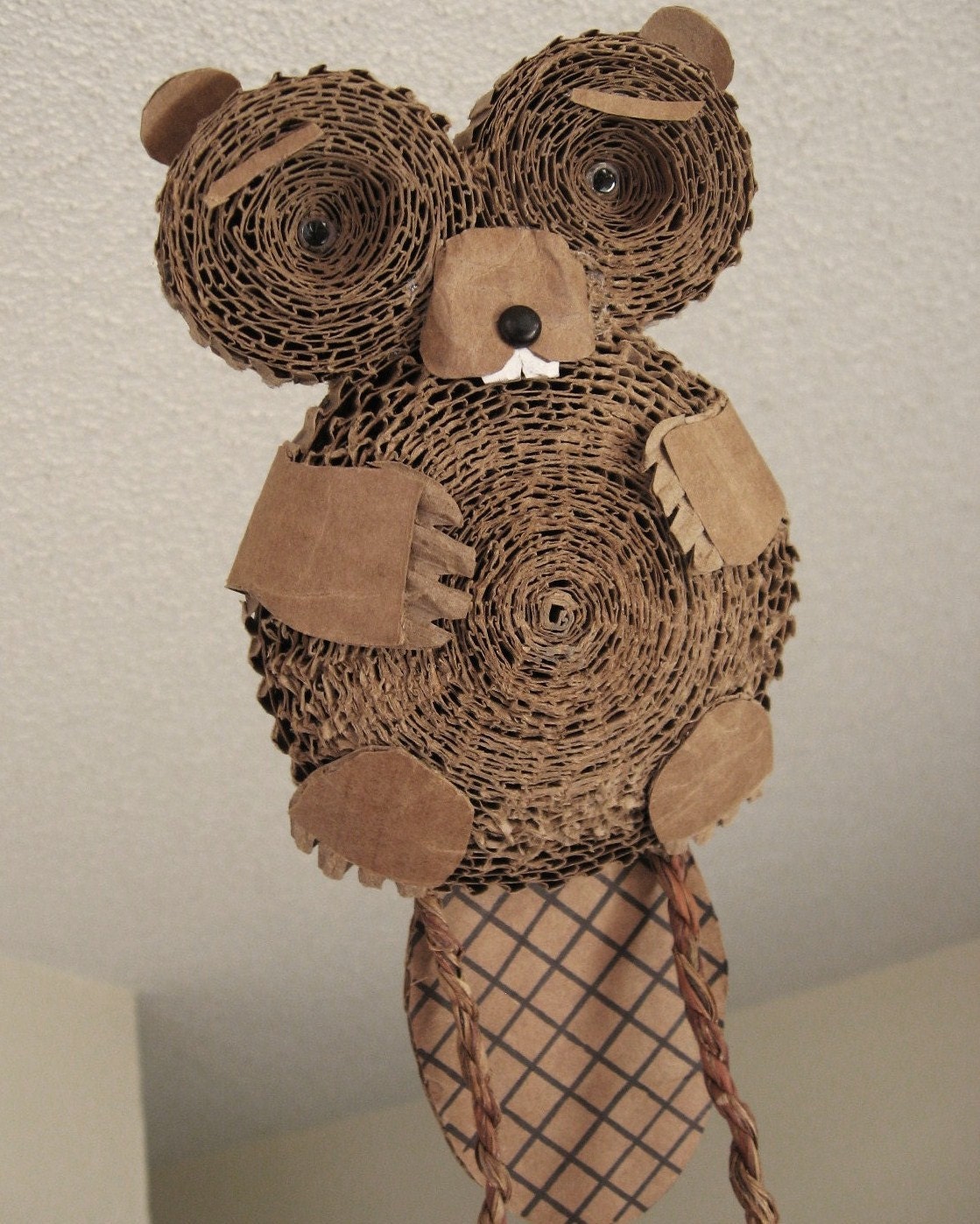 Has crafting always been a big part of your lives?
We first started crafting together when we were planning our wedding. A HUGE fan of "Offbeat Bride", we were inspired by others' offbeat, DIY weddings and wanted to craft our own. We made invitations, table decorations, a "Wishing Tree" and even a ribbon backdrop for the ceremony, to name a few. We've been "crafty types" ever since!

Where do you find your inspiration?
Pinterest, Etsy, Thrift Stores... there's always something new around the corner.

Describe your perfect evening:
On a perfect night we would be in the middle of the forest, cooking a meal over a small open fire. We'd wash our dishes with water from a nearby stream, string up our hammocks in the trees and drink wine under the stars.
I hope you have enjoyed the little interview with James & Katie, if you would like to visit their shop on Etsy click here. I hope they might have inspired you in away and given you ideas to create your own recycled goods. Does anyone have any tips/ made their own up-cycled creations, please share.