If you don't know by know I love reading books, I often find myself looking online for unique items designed for book lovers, I was on Etsy and was looking for some interesting bookmarks and that's how I discovered Castle on the Hill, a shop filled up with some of your favourite characters from Jane Austin books to Alice in Wonderland. This shop is perfect for people who love to read/tell stories, with gorgeous prints, stationary to brooches there is something for everyone. Below I speak to Jess the la

dy behind Castle on the Hill.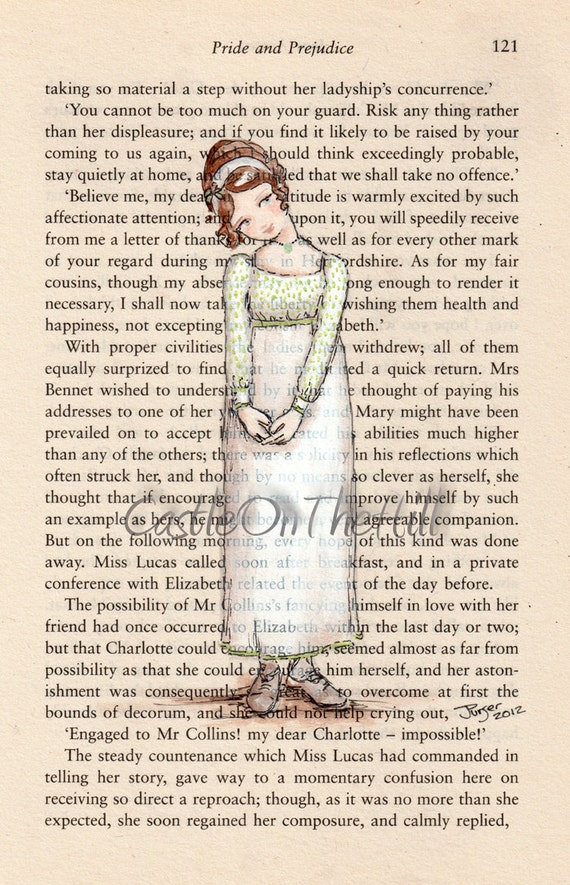 Can you tell us a little about Castle on the Hill and how it all began?
- It was kind of by accident. After going to university travelling to the Far East to teach and having various other jobs, I was going to go and work for my dad in Spain. Unfortunately, he fell ill with a terminal illness, so I moved there with my family to help care for him. There was very little work in Spain at the time, so I jumped at the chance when a friend of mine (Jo) introduced me to Etsy in 2007. I immediately threw together a few ideas and put them up for sale, not having a clue what people were really looking for. A few items sold and I really enjoyed putting my ideas down onto paper. Then I thought I'd start honing my skills by researching trends, branding and getting my head around what I myself was best at producing.
You are a self-taught artist, how long have you been drawing/painting etc. for? What are your favourite materials to work with?
- I'm not completely self-taught. My mum went to art college in the late 1950s and in turn, taught me a lot about figure-drawing and 50's fashion. i think I get a lot of my painting style from her.
At the moment, I prefer to work in acrylics, as they dry quickly and work well on book pages. If I had my own studio, I'd definitely move onto larger canvasses and oil paints.
Since a lot of your work is inspired by stories, what are your favourite books/genre? What is it about stories that you find inspiring?
- I love all kind of genres, depending on my mood. I like stories with intense and well-rounded characters. the story lines don't have to be packed with action - I'm often more interested in what's going on between the lines and in characters' heads.
The books by my bed right now (as I can never read just one at a time!) are Colin Meloy's "Wildwood"; Alexandra Dumas' "La Dame aux Camelias"; Richard Leakey's "The Sixth Extinction"; Anais Nin's "A Spy In The House Of Love"; and a great SF short story collection called "Burning With Optimism's Flames" (my favourite story being the brilliant "The Strings" by James Worrad (you can find his blog here: jamesworrad.blogspot.co.uk/) - it's so descriptive and evocative of a completely alien world - I want to paint it one day!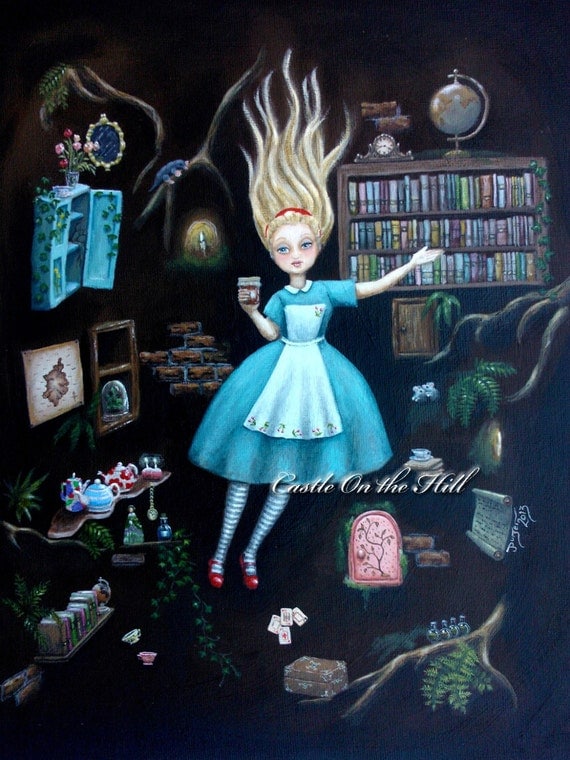 Starting a creative business is a challenging and rewarding experience, have there been many obstacles to overcome? Do you have any advice for those wanting to start a creative business?
- I think my first challenge was finding my own style - it took SO long! I eventually saw that customers reacted best to those items I had made straight-from-the-heart, where I hadn't (at least consciously) tried to work in someone else's style and just gone with my gut instinct when creating.
Another challenge has been one that many of us have, whether we're in the arts or not - finding the time to do everything! My priority has to be family, managing finances, then order posting and answering emails, then painting and creating after that. Everything else has to take a back-seat (including housework - yuk!).
Something I still feel as though I'm in the middle of is researching other shops and outlets to find out why they are or are not successful - what is the formula? I think we all have to find our own path, so research, research, research!

Describe your perfect morning:


- Ooo this probably changes from day-today. Right now, I would like to be waking up on the edge of the Northern Sahara, in my own personal riad, wander up to the roof terrace (decorated with all kinds of Moorish architecture, lamps and rugs), and have a coffee, juice and olive and cheese omelet (yes it sounds weird, but works!) with bread and olive oil. Then I would have a shower (in a big, tiled wet room) and get dressed and bring my easel up to the roof and paint under a huge parasol til lunch, with refreshing mint tea to keep me going. Yep - that would do!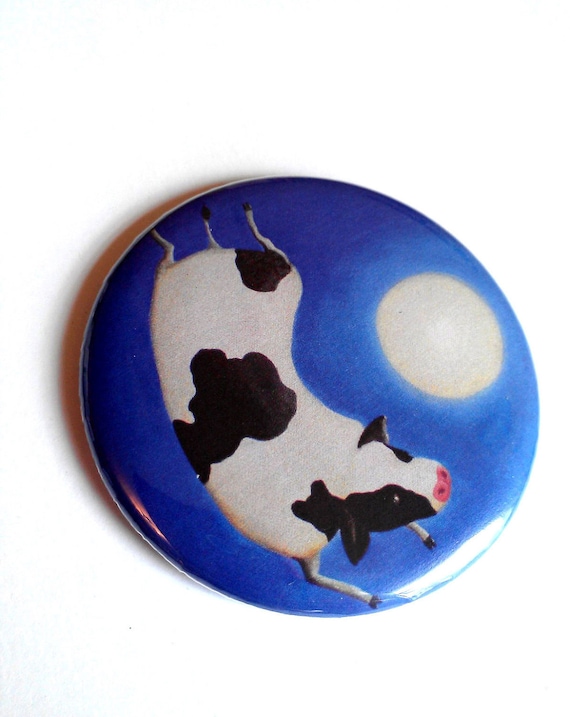 Handmade gifts are my favorite and add that personal touch, how important is keeping things handmade to you?
- Yes! I absolutely love how in recent years, handmade, homemade crafts have taken off again. I think that during the 70's, 80's and 90's it kind of took a back-seat to shop-bought, mass-produced items, but we're kind of bored with that now and with the recession going on so long, people are finding new and innovative ways to make money and are able to get their ideas out there with the help of the internet. It's amazing! I have met so many wonderful, creative people online!
With it being so much easier to support each-other directly through sites such as Etsy and Folksy, I think it's so much better than going to shops, where you might find an item which is OK, but not quite suited to you but will have to do, and you're paying extra for the middle-men who work between the shop and creator. This way, you can get a bespoke item direct and made with love. Wonderful!
What can we expect from Castle on the Hill for the rest of the year?
- I'm working on a few larger pieces this year, along with more commissions and stationery packs of different kinds too! I'd love to branch out into clothing, but that might have to wait for next year!
I hope you love Castle on the Hill as much as me, in the month of May Jess is giving anyone who makes on order this lovely print, how

sweet.